I want to present you with this easy but elegant greeting card that has a very interesting 3D effect. Let's start: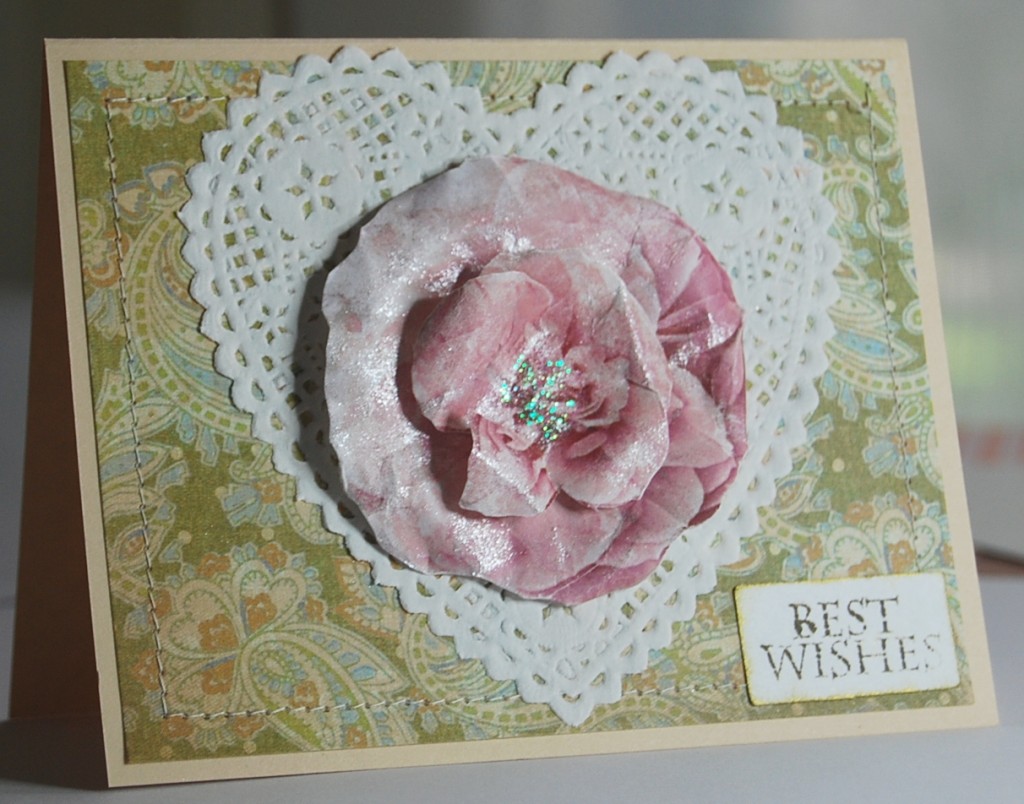 Use any size of a blank card or make one yourself by cutting a letter size cardstock in the middle and then folding it. You'll get 2 cards from one sheet of cardstock.
Decide the background paper that you want to use. Cut this paper a litte bit smaller than the front of your card.
Glue the paper to the front of the card. Optionally, you can then stitch around the edges of the decorative paper, as I did with my card.
Glue a  heart dollie onto the decorative paper.
Prepare the flower:

I used one of the roses from the Parade of Roses digital file, which you can purchase here. 
Print the flowers using white cardstock.
Cut the flowers. I like these roses so much, since I can't cut very straight and these roses look much better if you cut the edges irregularly. They look more realistic that way. I cut out two roses of the same size, but I trimmed the outer petals of one to make it smaller.
In order to give them more body, I wet them and molded the petals using my fingers. I also brushed some pearlescent medium on top of both roses to add some glimmer.
Once the flowers were dried, I glued together the smaller flower in the center of the bigger flower with foam tape.
For extra embellishment, I added some glitter in the center of the top petals.

Glue the flower over the heart dollie, using foam tape to add more dimension.
Stamp the sentiment onto a small tag and ink the edges with a gold inkpad.
Glue the sentiment to the card.
The card is ready. You only used five elements: the base cardstock,  the decorative paper, the dollie, the flower and the sentiment. The beautiful 3D flower makes the card outstanding.
Try to do it using any of the beautiful flowers from Enchant Art; you can take a look at more enchanting flowers by clicking here.
Tags: 3D cards, handmade cards, romantic cards