Between different activities, I managed to play with My Memories Software. This digital scrapbooking software is very easy to use. When you open it, you can choose to create an album from the designer templates, design your own or even open a recent album. Once you choose from those options, you can choose the album shape. This is really useful since not everyone wants to create a square layout; maybe you want to create a rectangular shape (portrait or landscape).
Now, you can choose a blank page or a photo layout. I didn't count but the program offers many different combinations for your photos. I like this since I only have to drag my pictures to the shape and it's all done!
There are many other options for Background, you can use the Backgrounds that come in the software or your own digital papers, yes, all the free or purchased papers that you downloaded from the internet! There are also embellishments,  digital papers, etc. All really nice and remember, you can use any image that you already have or that you want to scan. One thing that impressed me was the shapes. You can add any shape and fill it with a digital paper, photo, and color. The interesting thing about the shape is that you can create your own shape in Inkscape and just add it to your shapes folder in the program and use it like any of the other ones that came with the program; I like to do this for journaling, for example.
I don't want to forget that you can save your final product with their proprietary file extension, but also you can export your pages as .jpegs to make it available to open with any other software that opens this kind of file. Also, you can add music and video to your pages and make an interactive presentation, then save it on a CD and share it with your friends and family.
These are only a few of the features that I found in My Memories software. You can learn so much more if you visit their  blog where you can find short videos and pdf instructions that are very easy to follow. 
I made a quick page for our neighborhood cat Leo. I just use a background, a round shape, few embellishment, wordart and the pictures.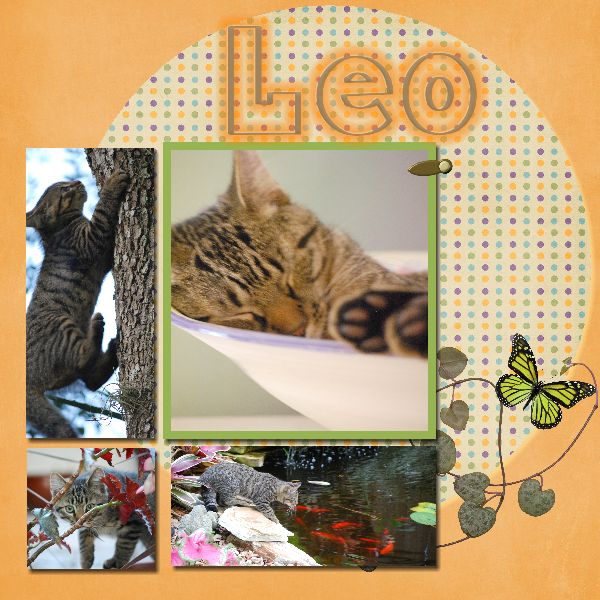 Leo is adorable! He was a little kitty when we first saw him.  Now is a big, big cat, still very cute.
All right, now I want to give you the opportunity to receive an absolutely free copy of My Memories Suite 2.0 ($40 value).
What do you have to do in order to participate?
We don't want to make it too hard for you. These are the simple rules:
Visit My Memories website. Once you are there, look at the different digital papers this website has. Then copy the name of one and let me know why you liked it in a comment to this post.
Visit the Enchant Art store and click on the Like button next to your favorite product.
Extra bonus: a- Visit My Memories blog, come back to this post and comment on any tutorial that you liked.  b- Make a link from your blog to this post and let me know about it.
You can enter as many times as you'd like. Everytime that you make a comment to this post on this blog, it's a new entry. This giveaway ends on September 26, 2011.
That's it. Good luck to all! If you would like to buy My Memories 2.0,  a very special coupon code is also available! If you use the coupon code  STMMMS36086  at My Memories upon checkout, you'll receive a $10 discount off the purchase of the My Memories Suite Scrapbook software and a $10 coupon for the MyMemories.com store – a $20 value!
 If you have any question, let me know: glenda@enchantart.com
Tags: My Memories Scrapbook coupon code, My Memories Scrapbook give away, My Memories Suite Software review