Today, we are bringing you a very cute project: a flower card accompanied by the free template and different papers. Download and use these papers and embellishments for making your own flower cards. These papers are from the My Memories scrapbooking software. If you are interested in getting the software, use the coupon code  STMMMS36086  at My Memories upon checkout, you'll receive a $10 discount off the purchase of the My Memories Suite Scrapbook software and a $10 coupon for the MyMemories.com store – a $20 value!
Let's take a look at the project using the three different free downloadable kits:
How to Assemble your Flower Card
1.  Print your file on cardstock.
2.  Take your card template page and fold at all fold lines.  A bone folder helps make the creases nice and crisp to help your finished card to look nicer.
3.  There should be a total of 9 folds when you are done.

4.  Cut out your card.

5.  Turn your card over so that the printed side is down and pinch the sides of each petal together until all 6 petals are standing straight up.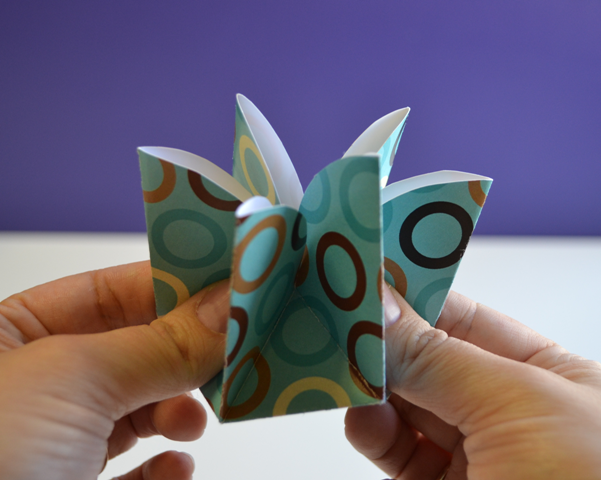 6.  Gently push all the petals in one direction until they lay flat.

7.  You now have a flower card.

8.  Tie a ribbon (not included) or something equivalent around the card to hold it closed.

9.  Embellish as desired.  This card was embellished with a circle cut out from a piece of background paper.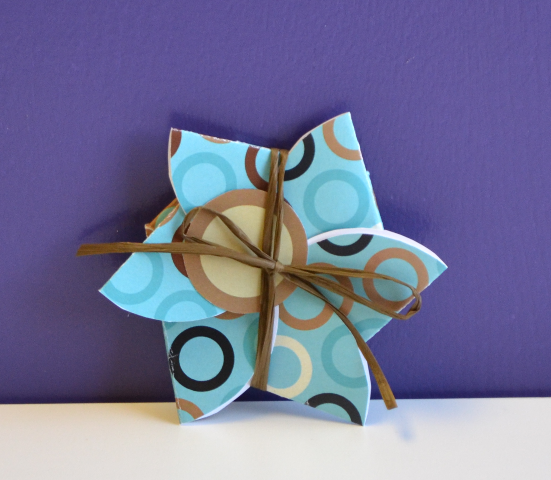 To download Kit 1, click here.
To download Kit 2, click here.
To download Kit 3, click here.
Glenda